Top 5 Best Hair Serum for Smooth hair for Men and Women in 2024
Top 5 Best Hair Serum for smooth hair
Haircare is one of the most important routines for men and women. While shampoos and conditioners are vital. Post haircare routine is equally important. Rather than going for hair wax and gels, hair serums are good to go for healthier hair. People often confuse hair oils with hair serums, but both are different. Hair oil provides nourishment to the scalp while hair serums provide nourishment to hair strands. Thus, the serum also helps in styling the hair without any damage. The benefits of Hair serum is as follows:
Controls Fuzzy and Irregular Hair Texture
Stops Breakage and Split Ends
Makes the Hair Strands Softer
Makes the hair look shinier
Protect Hair from Harmful UV Rays from sunlight.
Reduces Dryness and Irritation.
How to Apply Hair Serum
After a shower, take a few drops of any of the top 5 best hair serum for smooth hair. Apply gently, starting from the hair end slowly going towards the mid-section. Style your hair then as desired.
Top 5 Best Hair Serum for smooth hair
I have tried and tested all the hair serum, which I found useful for my hair. However, individual to individual hair type differs, so some serum that suits one person may not suit some other person. I have rated the top 5 Hair serum based on:
Popularity
Ingredients
Free from harsh chemicals
How the ingredients are beneficial to hair.
Note: I am not considering the packaging here since my main focus was how the various serum benefits the hair.
1.QRAA Keratin Infused Hair Serum
This is one of my top recommendations because of the keratin presence in it. If we go to a salon for Keratin treatment, it's quite expensive. This Keratin hair serum is itself giving all the advantages that keratin treatment gives. When we apply the serum, it gives a shiny look, giving the impression of hair styling products. Make sure that you use a small drop as applying too much makes the hair look oily. Some of the key ingredients are:
Keratin

Keratin makes your hair follicles smooth, looks full and glossy. This is especially recommended for curly hairs as it makes curls less frizzy, easy to manage, and gives a straight hair appearance.
Argan Oil

Argan oil lubricates the hair and maintains the moisture. Rich in Vitamin E, it boosts shine, reduces frizziness and dryness, giving a shiny look.
2.L'Oreal Paris Hair Serum 

Buy L'Oreal Paris Hair Serum Now
One of the rare hair serums that claim to be free of harsh chemicals and total plant-based serum. This serum is infused with 6 different flower oils. Since it's plant-based, I recommend using it around any time of the day. The serum gets dried up easily. The key ingredients are:
Tiare

Tiare prevents dryness of scalp and hair. It is known for protecting the skin and hair against saltwater and sun damage. The oil is moisturizing and nourishing. The Tiare extract rejuvenates and conditions the scalp and hair cuticle.
Lotus

Lotus provides vigorous repair for healthier and brighter hair. The Lotus seeds can activate genes that produce proteins to repair the hair fiber.
Chamomile

Chamomile helps reduce dandruff, soothes irritated scalp, and helps in hair growth. Also makes hair shiny, giving life to dull hair.
Flaxseed

Flaxseed lowers infections like dandruff, itching on the scalp, hair loss, and other scalp problems. The omega 3 fatty acids in flaxseed lessen the flakiness in the scalp and allow new hair strands to grow.
Rose

Rose is a soft astringent that reduces oiliness and dandruff. It also reduces the redness on the scalp and other scalp issues and also acts as an anti-inflammatory property.
Sunflower

Sunflower oil contains oleic acid, which reduces hair breakage. It has anti-inflammatory properties which may help reduce dandruff and relieve an itchy scalp.
3.Biotique Bio Mountain Hair Serum

One of the most inexpensive hair serums that use flowers grown on mountains. The application gives a pleasant flower fragrance which gets dried up quickly on applying. I recommend using it at any time of the day. The key ingredients are:
Licorice

Licorice contains glycyrrhizic acid which acts as an antioxidant for healthy hair. Also, it removes dandruff, soothes the scalp, and reduces irritation.
Mountain Ebony

Mountain Ebony, the flower of the mountains, known for its astringent and anti-bacterial properties, facilitates healthy hair growth. It also leaves the scalp feeling toned, exhilarated, free from dryness and irritation.
Long Pepper

Long pepper or Pippali or Piper Longum, is a herbal remedy that's beneficial for hair growth and used as a hair tonic.
4.Mamaearth Onion Hair Serum

One of the first hair serums uses an onion as its main ingredient. Despite its ingredients, the hair serum is still quite inexpensive. I used to color my hair quite often, so I was looking for a serum that's suited for colored hair and this serum was the perfect solution. Again, the Key Ingredients are:
Biotin

Biotin or Vitamin B7 in addition is a vital vitamin especially for hair the growth of hair follicles. It stimulates keratin production in hair resulting in natural thickness and shine. Indeed most recommended vitamin for receding hairline.
Olive oil

Olive oil maintains scalp and hair health, also high in antioxidants. Similarly, it prevents hair damage and nourishes and conditions the hair to improve its quality.
Onion Oil

Onion oil is rich in sulfur which prevents breakage, split ends, and thinning of hair. Furthermore, other nutrients present in onion prevents oxidation of hair. It also maintains the regular pH of the hair, preventing premature greying.
5.Spruce Shave Club Hair Growth Serum

One of the recently launched brands is on my final list. This serum is also  one of its kind that uses 8 different ingredients in the hair serum like Shikakai, Amla, Fenugreek, Bhringraj & Lactic acid which are essential for hair strengthening. However, I am going to talk about packaging here because this comes in a glass bottle so you need to be extra careful while handling it. The serum is a transparent liquid with a pleasant smell. The main ingredients of the serum are:
Vitamin C

Vitamin C, nevertheless, a powerful antioxidant that helps protects against free radicals. In addition, vitamin C creates a protein called collagen which is a part of the hair structure. Vitamin C also absorbs irons necessary for hair growth.
Moringa

Moringa is however well known for improving the health and strength of hair and scalp. It also reduces split ends and dandruff. It contains vitamins, minerals, Omega 3, and amino acids beneficial for hair growth.
Goji Berry

Goji berry makes hair stronger, thicker, and less likely to fall out. Moreover, it is rich in Beta Carotene and Vitamin A which increase blood circulation to the scalp and helps in hair regrowth. Also, a high level of Vitamin C improves collagen levels for hair growth.
6.Streax Pro Hair Serum(Used by Salons)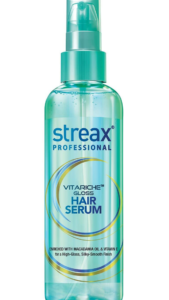 One of the few hair serums that use Vitamin E, is among the top list category. This serum is also among the most preferred in hair salons. After hair wash, applying the serum gives a natural shine and smoothness to hair. The key ingredients are:
Macadamia Oil

Macadamia oil nourishes the hair follicles and finally strengthens the hair strands. It also gets rid of tangles, frizz, and dullness and adds shine and volume to the hair.
Vitamin E

Vitamin E has moreover, antioxidants that keep hair and scalp healthy, promoting hair growth. Also, it gets rid of free radicals and keeps hair follicles from breaking down.
Top 5 Best Hair Serum for smooth hair | Conclusion
In the end, after all, thorough research, I have finally concluded and given a rank based on my usage, the fragrance,  the plant derivatives, and the percentage of chemicals used. Also, I hope this review helps you in deciding the best serum. Drop a comment below if you have any questions.
However, a Hair Serum is incomplete without a good hair wash. For that, you require a decent shampoo.  A shampoo that's chemical-free and could be used daily. So check out my article on Top 5 hair Shampoo for daily use
If you like my article, do share with your friends and someone who requires to read this article. Click on the notification and don't forget to follow my website Perfect Style for You for more such articles. Also don't forget to share it on social media platforms by clicking on the social media icons below. Feel free to drop a comment or ask any questions.
Thank you