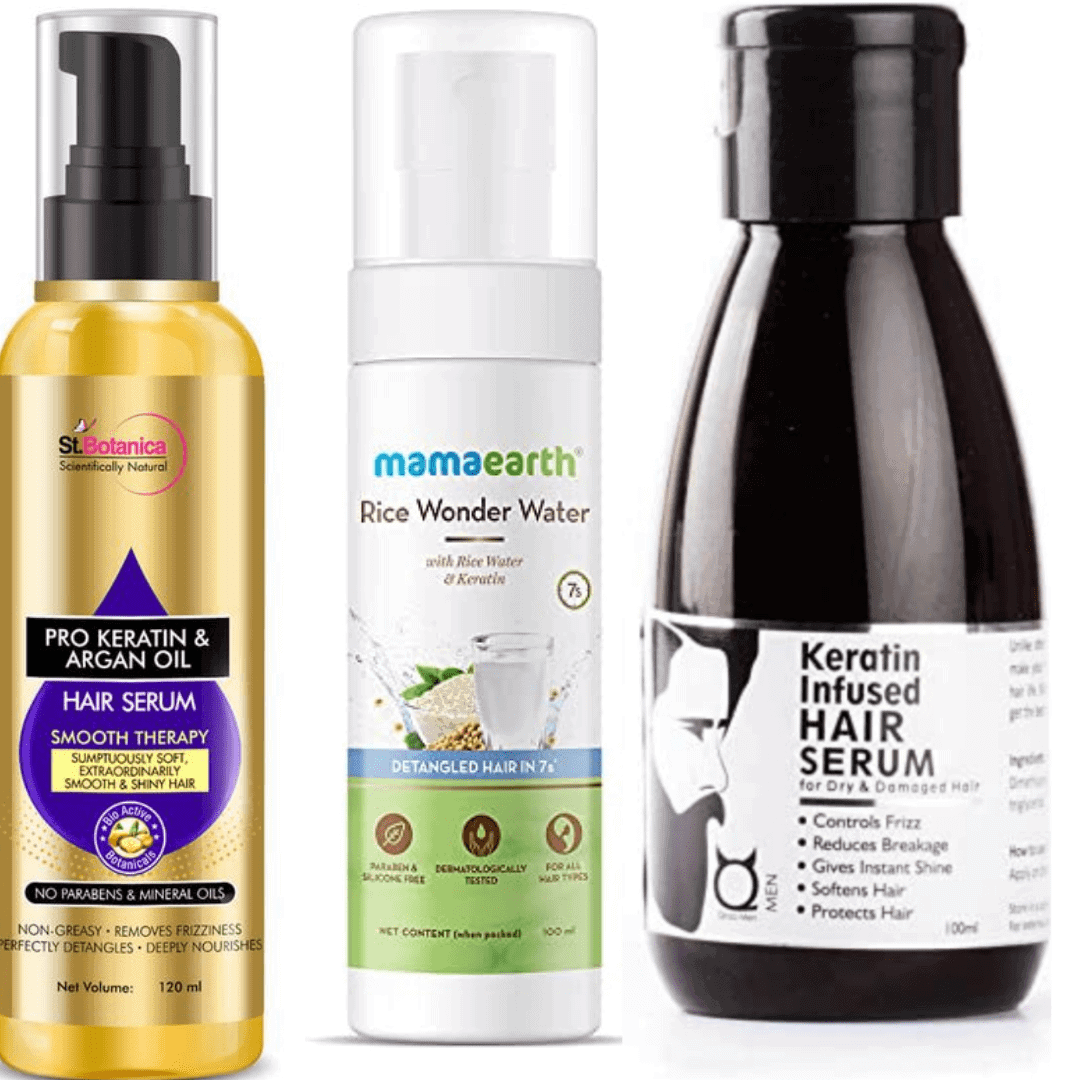 Top 3 Best Keratin Serum for Men's Hair in 2023
Top 3 Best Keratin Serum for Mens Hair in 2023
Haircare is one of the most important routines for men and women. While shampoos and conditioners are vital. Post haircare routine is equally important. Rather than going for hair wax and gels, hair serums are good to go for healthier hair. People often confuse hair oils with hair serums, but both are different. Hair oil provides nourishment to the scalp while hair serums provide nourishment to hair strands. Thus, the serum also helps in styling the hair without any damage. The benefits of Hair serum is as follows:
Controls Fuzzy and Irregular Hair Texture
Stops Breakage and Split Ends
Makes the Hair Strands Softer
Makes the hair look shinier
Protect Hair from Harmful UV Rays from sunlight.
Reduces Dryness and Irritation.
How to Apply Hair Serum
After a shower, take a few drops of any of the hair serum. Apply gently, starting from the hair end slowly going towards the mid-section. Style your hair then as desired.
Top 3 Best Keratin Serum for Mens hair
I have tried and tested all the hair serum, which I found useful for my hair. However, individual to individual hair type differs, so some serum that suits one person may not suit some other person. I have rated the top 3 Keratin Hair serums based on:
Popularity
Ingredients
Free from harsh chemicals
How the ingredients are beneficial to hair.
Note: I am not considering the packaging here since my main focus was how the various serum benefits the hair.
Benefits of Keratin Serum

Keratin makes your hair follicles smooth, looks full and glossy. This is especially recommended for curly hairs as it makes curls less frizzy, easy to manage, and gives a straight hair appearance.
QRAA Keratin Infused Hair Serum
This is one of my top recommendations because of the keratin presence in it. Moreover, if we go to a salon for Keratin treatment, it's quite expensive. This Keratin hair serum is itself gives all the advantages that keratin treatment gives. When we apply the serum, it gives a shiny look, giving the impression of hair styling products. Make sure that you use a small drop as applying too much makes the hair look oily. Some of the key ingredients are:
Argan Oil

Argan oil lubricates the hair and maintains moisture. Rich in Vitamin E, it boosts shine, reduces frizziness and dryness, giving a shiny look.
Mamaearth Rice Water Serum


One of the recently launched brands that have the goodness of rice water and castor oil in addition to keratin. Castor oil, in addition, acts as a natural hair treatment and promotes healthier hair.

I would recommend this product for dry, damaged, or frizzy hair. In fact, this serum is suitable for all hair types. It moreover, increases blood flow to the scalp, reduces breakage and split ends. The key ingredients of the serum are:
Rice Water

Rice water helps in making the hair grow longer due to the presence of amino acids, however adds volume and shine to the hair. It also makes the hair stronger and detangles hair.
St Botanica Pro-Keratin Serum
This one is among my favorite keratin serum and is one of its kind that has 13 natural ingredients. With every ingredient having unique benefits to hair, it is moreover, a complete package. The natural ingredients present in this serum are:
Argan Oil
Avocado Oil
Jatamansi Oil
Amla Oil
Castor Oil
Vitamin E
Ashwagandha
Jojoba oil
Gooseberries oil
Almond oil
Fenugreek oil
Bhringraj oil
Shea butter
Almond Oil

Almond oil moreover, is used to treat a variety of skin problems, including puffiness, under-eye dark circles, acne, and scars. Moreover, it evens out skin tone and aids in the repair of sun damage.
Jojoba Oil

Jojoba oil makes the hair root stronger by promoting oxygen flow to the scalp thus supplementing hair growth. Moreover it has characteristics similar to the oil produced by the body.
Vitamin E

Vitamin E has antioxidants that keep hair and scalp healthy, moreover promoting hair growth. Also, it gets rid of free radicals and keeps hair follicles from breaking down.
Top 3 Best Keratin Serum for mens in 2023 | Conclusion
After thoroughly researching the Serum and personally using them, I have ranked these shampoos based on the plant derivatives and percentage of chemicals used. Also, I hope this review helps you in deciding the best shampoo for daily use. Also, drop a comment below if you have any questions.
Good hair shampoo is incomplete without post-wash hair care. For post-wash hair care, I recommend using good quality Hair Serum. It adds shine and volume to the hair, keeping the hair nourished. Do check out my article on Top 5 Best Hair Serum in 2023
If you like my article, do share with your friends and someone who requires to read this article. Click on the notification and don't forget to follow my website Perfect Style for You for more such articles. Also don't forget to share it on social media platforms by clicking on the social media icons below. Feel free to drop a comment or ask any questions.
Thank you