The Ultimate Beard Care Guide for the perfect beard in 2024
The Ultimate Beard Care Guide for the perfect beard in 2024
Skincare is one of the most important routines that one must follow. The face skin requires utmost care and attention as it is constantly exposed to dust, dirt, and sun exposure. Skincare is not just for women; but for men too. A perfect skincare regime can nevertheless, help men achieve healthy, clear, and youthful-looking skin. Nowadays even a beard requires proper regime and care, as it tends to irritate the skin with dryness.


The Ultimate Beard Care Guide for the perfect beard in 2024
Moreover, the beard look has been the latest trend among men and the most preferred look by women in the recent era. Finally, the study found that women think a beard makes you look mature and masculine, enhancing your attractiveness quotient. The beard can range from  short stubble, medium stubble, heavy stubble, and a full beard. The benefits of having a beard look are:
Acts as a sunscreen.
Protects you from cold winds.
Gets attention from women more.
You are perceived as more mature and people take you seriously.
Furthermore, it symbolizes  strength.
Products Required for Beard Look.
Trimmer
Shaping Comb
Facial hair Serum
Beard Oil
Beard Balm/Softener
Shaping and trimming the beard
Also, use a trimmer to maintain a stubble or beard. And make sure to remove the extra hair on your neck and cheek hair with the help of a shaping comb. The beard looks neat and trimmed. Furthermore, I recommend using Philips Trimmer and Shaping Comb From Beardo.

Buy Beard Trimmer Now

After the beard trim, the hair tends to get rough or hard. However, you need to take constant care so that the hair remains soft and smooth. So the next step, you need to apply a Beard Balm/Softener. This tends to soften the hair. However, facial hair requires nourishment, so apply a Facial Hair Serum. Whenever you get time, apply Beard Oil as and when required.

Buy Beard Softener Now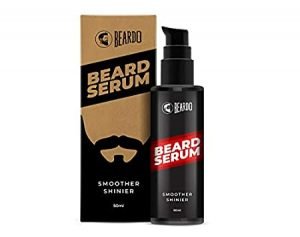 Buy Beard Serum Now

Additional tips for Beard Care.
Applying After Shave Lotion
Nevertheless, once you have shaved your neckline and other areas on your face for a perfect beard, you need to apply aftershave to close the pores to avoid any bacterial infection. This also soothes the skin, leaving them soft and supple. Furthermore, I use Forest Essentials, which is one of the best aftershave lotions available.

Pro Hack: Apply icy cold water, which helps in closing the pores and acts as an aftershave.
This is the final step, which is important so that the skin doesn't remain dry and however, retains the moisture it requires. Furthermore, Biotique face lotion for men is one of the most inexpensive face lotions to date.

The Ultimate Beard Care Guide for the perfect beard in 2024 | Conclusion
After thoroughly researching the beard care regime and personally using them, I have selected them based on the plant derivatives and percentage of chemicals used. Also, I hope this review helps you in deciding the beard care regime for daily use. Also, drop a comment below if you have any questions.
A good beard care regime is also incomplete without a skincare regime. For a skincare regime, I recommend using good quality products with natural ingredients. Do check out my article on the Skincare regime for Men
If you like my article, do share it with your friends and someone who requires to read this article. Click on the notification and don't forget to follow my website Perfect Style for You for more such articles. Also don't forget to share it on social media platforms by clicking on the social media icons below. Feel free to drop a comment or ask any questions.