Top 3 Best Serums For Curly Hair for Men and Women in 2023
Top 3 Best Serums for Curly hairs in 2023
Haircare is one of the most important routines for men and women. While shampoos and conditioners are vital. Post haircare routine is equally important. Rather than going for hair wax and gels, hair serums are good to go for healthier hair. People often confuse hair oils with hair serums, but both are different. Hair oil provides nourishment to the scalp while hair serums provide nourishment to hair strands. Thus, the serum also helps in styling the hair without any damage. The benefits of Hair serum are as follows:
Controls Fuzzy and Irregular Hair Texture
Stops Breakage and Split Ends
Makes the Hair Strands Softer
Makes the hair look shinier
Protect Hair from Harmful UV Rays from sunlight.
Reduces Dryness and Irritation.
How to Apply Hair Serum
After a shower, take a few drops of hair serum. Apply gently, starting from the hair end and slowly going towards the mid-section. Style your hair then as desired.
Top 3 Best Serums for Curly hairs
I have tried and tested all the hair serums, which I found useful for curly hair. However, individual to individual hair type differs, so some serum that suits one person may not suit some other person. I have rated the top 3 Hair serums based on:
Popularity
Ingredients
Free from harsh chemicals
How the ingredients are beneficial to hair.
Note: I am not considering the packaging here since my main focus was how the various serum benefits the hair.
1. Streax Pro Hair Serum(Used by Salons)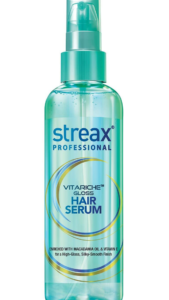 One of the few hair serums that use Vitamin E, is among the top list category. This serum is also among the most preferred in hair salons. After hair wash, applying the serum gives a natural shine and smoothness to the hair. The key ingredients are:
Macadamia Oil

Macadamia oil nourishes the hair follicles and finally strengthens the hair strands. It also gets rid of tangles, frizz, and dullness and adds shine and volume to the hair.
Vitamin E

Vitamin E has antioxidants that keep hair and scalp healthy, promoting hair growth. Also, it gets rid of free radicals and keeps hair follicles from breaking down.
2. Mamaearth Onion Hair Serum

One of the first hair serums uses an onion as its main ingredient. Despite its ingredients, the hair serum is still quite inexpensive. Applying hair color on curly hair is difficult as it makes the hair more frizzy, so I was looking for a serum that's suited for colored hair and this serum was the perfect solution. Again, the Key Ingredients are:
3. L'Oreal Paris Hair Serum 

Buy L'Oreal Paris Hair Serum Now
One of the rare hair serums that claim to be free of harsh chemicals and total plant-based serum. This serum is infused with 6 different flower oils. Since it's plant-based, I recommend using it around any time of the day. The serum gets dried up easily. The key ingredients are:
Top 3 Best Serums for Curly hairs  | Conclusion
In the end, after all, thorough research, I have finally concluded and given a rank based on my usage, the fragrance,  the plant derivatives, and the percentage of chemicals used. Also, I hope this review helps you in deciding on the best serum. Drop a comment below if you have any questions.
However, a Hair Serum is incomplete without a good hair wash. For that, you require a decent shampoo.  A shampoo that's chemical-free and could be used daily. So check out my article on Top 5 hair Shampoo for daily use
If you like my article, do share with your friends and someone who requires to read this article. Click on the notification and don't forget to follow my website Perfect Style for You for more such articles. Also don't forget to share it on social media platforms by clicking on the social media icons below. Feel free to drop a comment or ask any questions.
Thank you